Hurry up. Mark your date on 4 Feb 2022 at 12am.
Limited sets trial for first 10k people register for it.
Only one per person and maximum 2 sets per household with a=same address in Singapore.
Only for new applicant for Milo, any registered before will not get any trail again.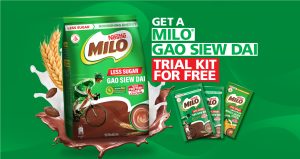 What you will get
Milo Gao Siew Dai and Milo Gao Siew Dai With cereal (all is 3 in 1 packet)